Given that businesses are rapidly undergoing a digital transformation nowadays, it is a good time for entrepreneurs to develop and sell digital products and make profits.
There are plenty of benefits associated with selling digital products. They are scalable, and you can easily reproduce them as much as you want. And of course, you don't need to invest in transportation and storage costs. Moreover, the cost of starting a digital business is considerably low compared to selling tangible products.
So without further ado, here are the best 13 digital products that you can sell online. You can choose to sell one or more and have full control over it.
1. Software
The software industry is colossal and is constantly growing. It offers plenty of opportunities for those who know how to write code of any kind.
Be it desktop software, website templates, web-based applications, mobile apps, or video games – there are endless possibilities. And the software market is thriving.
In the first-ever study conducted to track the growth of software's economic impact throughout the United States by Software.org , it was found that software contributed in excess of $1.14 trillion to the total U.S. value-added GDP in 2016 and opened up job opportunities for 2.9 million people.
2. Logo Design
Every company or business needs a logo as it helps in creating a brand identity and inspires trust. There is an ever-growing demand for logos.
Essentially, a website visitor or a reader usually notices the logo first before reading the text. Thus, a strong visual identity is required.
The best logos are those that are simple, unforgettable, timeless, fitting, and versatile, but at the same time invoke the feeling the business wants its target audience to associate with.
What's more? You can make a lot of money, depending on the quality of the logos that you design. You can refer to the table below put up by 99designs to gauge the amount you can potentially earn by designing logos.
3. Videos
More and more businesses are turning to video as it is a powerful tool for delivering information online.
If you look at the stats, 87% of businesses are using video as a marketing tool, while 96% of people say they've viewed an explainer video to gain extra knowledge about a product or service. And by 2022, video is projected to account for 82% of international internet traffic.
Since video content is more engaging and easier to consume than text, the demand for video content is high. Provided you have the right skills, there is a high potential for income.
4. Online Courses
The global e-learning market is expanding. It is anticipated to reach $325 billion by 2025, and online video courses make up a significant portion of the industry.
You can make income from home by creating and selling online courses if you are an expert in a subject matter or passionate about teaching.
Moreover, there are several online platforms where you can sell your courses online. Places like LearnWorlds and teachable are some examples.
You can also validate your course by taking a survey of your audience once you come up with a topic idea. Software like Jotform allows you to create engaging surveys.
5. Online UX Design Service
Businesses who own websites are always on a lookout to hire UX designers as user experience is essential for business success.
UX can help keep users loyal to a product or brand, and the ROI of good UX is high.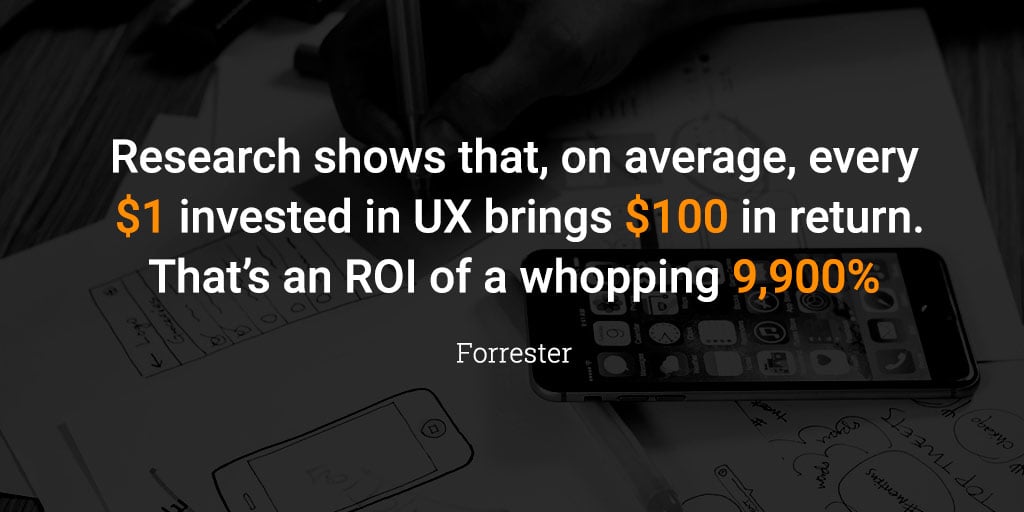 Leverage on it and offer your UX design service online. You can try platforms such as UpWork or put up your own website and offer your service.
Keeping it simple, practicing responsive design, understanding your target audience's needs and demands, designing a visually distinct page layout, and maintaining consistency of the user flow throughout the journey are some great tips to remember for UX designers.
6. Games
If you are an Indie developer, you can sell your games directly to customers and earn huge benefits. When you sell directly, you can keep more of your sales revenue.
However, note that not all game titles become successful. If you search on the App Store and Google Play charts, the best-sellers are mostly mid-core titles. These games have built on their loyal audience and continue to do so for years. The top free games are mostly hyper-casual games.
7. Photography
Bloggers and website owners always need high-quality, premium photos. No wonder, photographs is one of the most in-demand digital products today.
It is true that there are many websites where people can get good quality images for less than they are worth or even free, but if you can take truly spectacular images, you can still ask fair prices.
To kick start, you will need a website as it will serve as your portfolio. Showcase your work brilliantly to raise your profile. Offer competitive pricing and constantly showcase excellent quality images to attract clients.
8. Audio and Music
There are several types of digital audio products you can develop and sell. They serve as a powerful tool for communicating messages. Also, there are people willing to pay for entertaining, soothing, informative, or inspiring audio tracks. Some can even help achieve business goals
For instance, you can make recorded lectures, relaxing background noises, karaoke versions of popular songs, reusable sound effects, or lyrical or instrumental music tracks, just to mention a few.
Remember that licensing matters. Ensure to carefully license your own products and respect others' licenses if you are using their works.
9. eBooks
If you are an expert on a particular topic, you can write an informative eBook and sell it to readers who are looking to gain knowledge.
You can provide a resource that can help benefit your audience in the long run.
For starting from scratch with no audience, consider creating content and giving it away for free. It will help generate new leads or help you to sell your other e-books.
They are many people who make substantial money online by creating how-to guides and providing valuable information to their readers.
10. Online Documents
Different types of documents can serve as a resource.
You can choose to create informative documents such as how-to guides, manuals, industry reports, or guides.
Or you can even opt to create a resume or proposal templates to help your clients save time and appear professional.
It is best for those who have already written blog posts specific to their industry.
Put together the contents into a manuscript and offer it as an extra resource to aid people in the same industry.
11. Tickets
If you consider Google Trends, you will come to know why selling tickets will be lucrative for entrepreneurs. 'Tickets' is one of the most consistent and popular search terms.
You can put up a website where interested people can choose which event they need tickets for, and you can provide them with the same.
Tickets are not limited to physical events like concerts, conferences, and museums. They can also be used for web-based events like online classes, seminars, online conferences, or any other event.
12. Membership Programs
If you have already set up a website, you can offer membership programs. Members can be asked to pay a monthly fee in order to have access to some of your exclusive content.
Settle on a niche like technology, lifestyle, or business.
To help retain loyal subscribers, consider offering valuable rewards and benefits, leveraging existing customer data for stronger personalization, building a community through user-generated content, and encourage customers to write reviews and leave feedback to recognize their needs, pain points, and preferences among others.
Though membership programs are more time consuming compared to other digital products as you have to continuously develop new content, but it is worth the effort. With membership programs, you can earn recurring revenue versus a one-off payment. A great opportunity to gain profit!
13. Printables
You can create printables (digital files) and upload them for your potential users. They can then download the empty templates and use them, thus saving their time.
It can be art prints, gift tags, lesson plans, coloring sheets, workbooks, meal plans, and so on.
There are software tools like Photoshop to help you create your printables.
Creative freelancers who create printables usually have a long-term income as once you create printables, you can use them to make money over and over again.
Over to you!
Which digital products have you decided to sell?
As you can see, there are plenty of options available for selling online. You only need to have the right skill to develop digital products.
Whether you plan to create videos or develop games or any other product, the advancement in technology has made it possible to sell digital products online more easily than ever before.
Just remember that when creating digital products, quality is better than quantity. Focus on creating high-quality products to add value to people's lives. The income will eventually follow.
(Featured Image: Source)